About Savoir Faire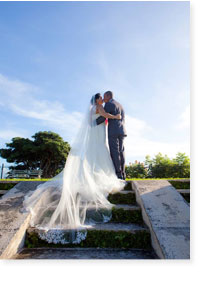 With years of experience in the event planning industry and planners who are WPIC certified and have worked on events from destination bachelorettes to Toronto Fashion Week, Savoir Faire Weddings & Events specializes in events in Toronto and Bermuda. We provide exceptional event coordinating services for all types of events and will ensure it comes together with style and sophistication.
A closer location than many other islands, Bermuda is located no more than two and half hours from major cities such as Toronto, New York, Miami, and Philadelphia. This calm, clean and manicured island is like no other and has much to offer for your event. Besides the crystal clear blue waters and pink sand beaches, Bermuda can cater to a beach wedding, corporate conference and anything in between.
We understand the concerns that can arise while planning an off shore event , so with offices and planners in both Toronto and Bermuda you can be assured that no detail will be missed as we handle your event.
If the island of Bermuda is not for you, Savoir Faire's Toronto office will be able to execute your event amongst the skyscrapers and bright lights of the city with ease. As no event is identical and each host has their own sense of style, Savoir Faire Weddings & Events ensures we will have "the know how" for your event.